HyaDemis Creates your perfect Smile
Hyaluronic Acid (HA), which is the nature substance in human body, it will gradually lose with normal aging. It acts like an inflated cushion to support facial structures and tissues. When people get older, skin become flabby, fill with wrinkles and lack flexibility.
HA injection treatment can fill the lines, hollow cheeks or faces, but also creates the effect of contouring (e.g. the part of nose and chin). HyaDermis can be used as filler in plastic surgery to satisfy the needs of body contouring. The patented technology creates a unique hydrate micro-crystal-like compound with high viscoelasticity. Both in theoretical and clinical practice, HyaDermis also has more superior quality and performance than other products in the market. HyaDermis is highly compatible with human tisses. Due to its high viscoelasticity compared to traditional filler, it provide fantastic force to support, difficult to shift. The dense of hydrate micro-crystal-like compound's structure can lower the risk of degradation after injection. It is easy to use, presenting you natural appearance.
HyaDermis apply the technique of CHAP (CrossLinked Hyaluronic Acid Platform), generating the product advantages as below:
More long-lasting result.
HyaDermis apply the Hyaluronic Acid Crosslinking technology. Using the crosslinking components with same concentration, hyaluronic acid molecules will reach a three-dimensional crosslinking part of high density. The original soft and fragile hyaluronic acid chain will firstly generate three-dimensional structure, and then it enhances its grain structure through the linkage of fourth dimension chain, so that the enzyme is so difficult to destroy each hyaluronic acid chain. This technology enables HyaDermis to be resistance to degradation, therefore enzyme cannot degrade from inside to outside easily. Hyaluronic acid molecules can prolong the life of the implant materials in human body; the shaping effect of HyaDermis will then become more durable.。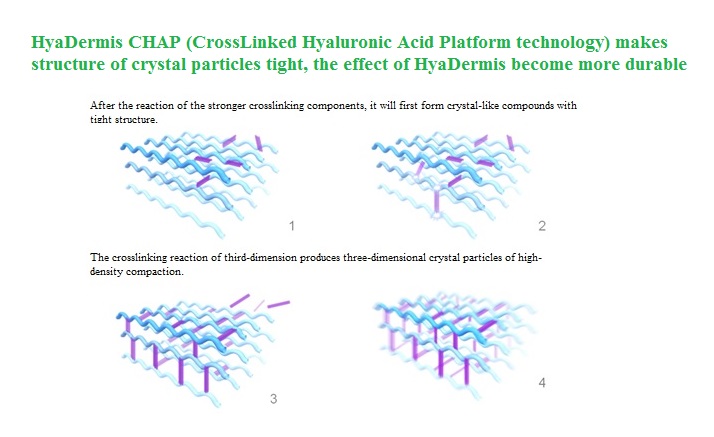 ( HyaDermis CHAP (CrossLinked Hyaluronic Acid Platform technology) makes structure of crystal particles tight, the effect of HyaDermis become more durable.)
The Strong Support
HyaDermis enhances the viscosity and flexibility of hyaluronic acid, while viscosity and flexibility is critical factor influencing the result of shaping. Hyaluronic acid with high elasticity and viscosity, can not only fill the facial wrinkles and fold, but also applicable on other facial parts. It can give more natural and beautiful appearance after injection.
Prevent Shifting
Hyaluronic Acid injections treatment in so popular today, however we can still hear about the occurrence of "Shifting" frequently. It becomes the major concern of consumers when choosing fillers treatment. Since the special crosslinking technology of HyaDermis, the colloidal particles of HyaDermis have high water retention capacity, but also bring excellent support to the skin. Thus, it is not easy to produce Shifting after injection.
Now on, HyaDermis can meet consumers' needs with its great power on durability, elasticity. No shifting with HyaDermis products.
Which part of the face can be treated by HyaDermis?
Full face can be treated when different types of HyaDermis used in different part of face in order to get the best results, such as, nasolabial folds, cheek, chin. Pre-treatment skin testing is not required as Hyaluronic Acid is from non-animal source and microbial fermentation.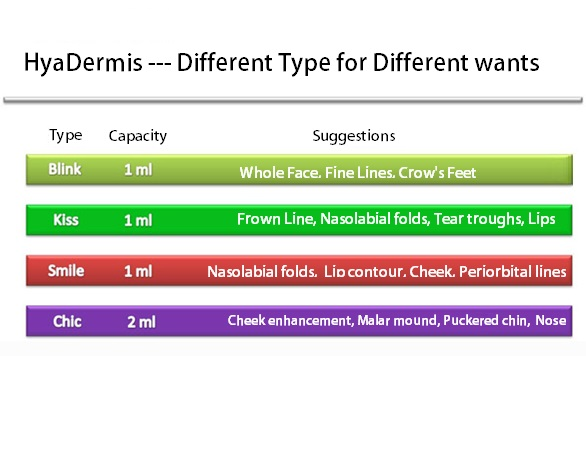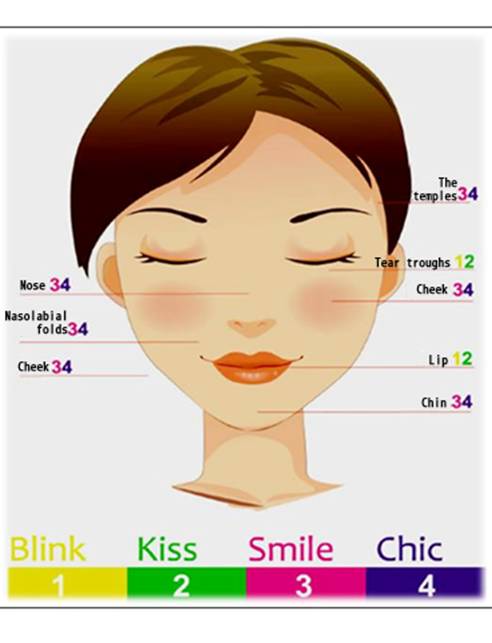 What is the optimum injection depth?
For filler, you will find that more active of targeted injection tissue, higher the the speed of the metabolic activity. Injection will suggested to take place in between the skin and dermis. If the injection depth is too deep, it will increase the chance of metabolism of HyaDermis.